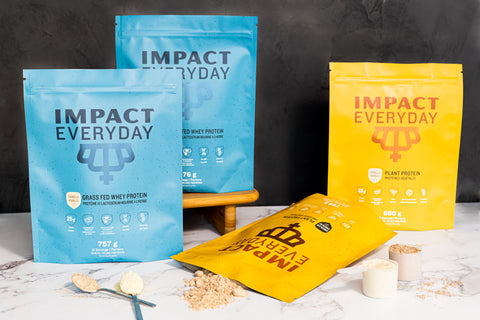 What is the connection between Impact Everyday Protein Powder and Impact Kitchen?
Impact Everyday Protein Powder is brought to you by the same team behind Impact Kitchen, a brand committed to providing nutritious, high quality food options. Impact Kitchen's values of health and wellness extend to the creation of Impact Everyday Protein Powder.
How does Impact Kitchen's food philosophy influence Impact Everyday Protein Powder?
Impact Kitchen's dedication to our food philosophy aligns with the formulation of Impact Everyday Protein Powder. All protein powders are crafted with the same commitment to quality, using clean ingredients that prioritize health and taste. 
Can I find Impact Everyday Protein Powder at Impact Kitchen locations?
Yes, Impact Everyday Protein Powder is available for purchase at all Impact Kitchen locations, through the Impact App and on UberEats.
How does Impact Everyday Protein Powder complement the offerings at Impact Kitchen?
Impact Everyday Protein Powder serves as an extension of the wholesome options provided by Impact Kitchen. Impact Everyday is used in Impact Kitchen's smoothie bar with more exciting menu items coming soon!
What is Impact Everyday's Quality Guarantee?
At Impact Everyday, our commitment to quality is unwavering. We prioritize using the finest ingredients and adhering to rigorous manufacturing standards to deliver a premium protein powder that aligns with your health and fitness goals. Our Quality Guarantee is a testament to our confidence in the excellence of our products and our dedication to your satisfaction. If you're not completely satisfied with the quality or performance of our protein powder, reach out to our customer support team within 30 days of purchase. We'll work with you to find a solution, whether it's a replacement, exchange, or refund. 
Is the whey protein in Impact Everyday sourced from grass fed cows?
Yes, the Grass Fed Whey Protein in Impact Everyday is sourced from cows that are primarily grass fed. This ensures a high quality protein source.
Is Impact Everyday Protein Powder gluten free and allergen friendly?
Yes, Impact Everyday Protein Powder is formulated and tested to be gluten free and suitable for individuals with common food allergies. Our Grass Fed Whey Proteins contain milk. However, we recommend checking the product labels for specific allergen information.
What are "natural flavors" in Impact Everyday Protein Powder?
"Natural flavours" refer to ingredients derived from natural sources, such as fruits, spices, herbs, or other plant-based materials. "Natural flavours" are added to enhance the taste and overall sensory experience of Impact Everyday Protein Powder. They contribute to making the protein powder more enjoyable.
Are there any artificial ingredients in the protein powder?
No, Impact Everyday Protein Powder is formulated without artificial ingredients, sweeteners, or colours. We prioritize using natural ingredients to provide you with a clean and healthy protein source and all products are sweetened with monk fruit.
Do you offer a subscription option for Impact Everyday Protein Powder?
Yes, we offer a convenient subscription plan for Impact Everyday Protein Powder. You can subscribe to receive your chosen protein powder flavour and type regularly, with the added benefit of saving 10% on each order.
How does the subscription work?
With our subscription option, you can select the flavour and type of Impact Everyday Protein Powder you prefer, choose the delivery frequency (21 days, 30 days or 60 days), and your orders will be automatically shipped to you. You'll receive 10% off each subscription order.
Can I modify or cancel my subscription?
Yes, you can easily modify or cancel your subscription at any time through your account on our website. Whether you want to change flavours, adjust the delivery frequency, or pause your subscription, you have full control.
Is the 10% discount applied to every subscription order?
Yes, the 10% discount is applied to each subscription order, ensuring you receive ongoing savings while enjoying the convenience of automatic deliveries.
How do I sign up for a subscription?
Signing up for a subscription is easy. When you select your desired flavour and type of Impact Everyday Protein Powder under "Shop", simply choose the subscription option and set your preferred delivery frequency during the checkout process.
What if I have questions or issues related to my subscription?
If you have any questions or encounter issues regarding your subscription, our customer support team is here to assist you. Feel free to reach out to us for prompt and helpful assistance at everyday@impactkitchen.ca.
Ordering, Delivery & Returns
Where can I purchase Impact Everyday Protein Powder?
You can purchase Impact Everyday Protein Powder directly from our website or at your nearest Impact Kitchen location. Simply visit the Shop page and follow the ordering instructions. 
What is your return policy?
We have a hassle free return policy. If you're not satisfied with your purchase, please contact our customer support within 30 days of receiving your order for assistance with returns or exchanges.
How long will it take to receive my shipment?
Your Impact Everyday order should arrive within 4-7 business days.